Gingival Recessions
A gingival recession is when the gum migrates exposing part of the tooth's root, making it appear longer and unhealthy. It can be localized to one tooth in a group of teeth or it can spread throughout the mouth, making the patient sensitive to eating cold foods and making them more susceptible to cavities.
On many occasions we can solve this with connective tissue grafts, with this we will cover the part of the exposed dental root and we will thicken the tissue to make it more resistant.
In case of not wanting to use connective tissue from the same patient, we can use acellular dermal matrices.
Connective Tissue Grafts
It is a surgical procedure that aims to modify defects in the position, size, and morphology of the gum; it is very predictable over time.
Its indications are as follows:
Gingival recession
Increase in gum volume for the placement of dental implants
Cases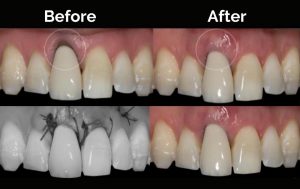 It is very important to solve these problems for several reasons:
Recession can worsen over time and become increasingly difficult to fix.
The tooth becomes more susceptible to sensitivity and cavities, in addition to looking aesthetically unpleasing.
We solve these types of problems with periodontal plastic surgery, restoring a more pleasant and healthy smile for our patients.
Do you want an appointment? Click the button below and schedule one with Dental Life.